Dave and Cathy (CAMPBELL) BERNHARDT's homepage
---

Hi! I'm Dave Bernhardt, an electrical engineer (Clarkson, 1976) with a personal interest in family genealogy. Most of my ancestors are of German origin, though I have the usual "cast of characters" whose roots I'm still chasing. I've taken a special interest in collecting together the family's oldest photographs, and archiving them by scanning them and putting the files onto CD-ROM. Like my wife, Cathy, I also volunteer my engineering skills at Yankee Golden Retriever Rescue. Being computer proficient has also made me the de-facto "computer helpdesk" for our extended families!





I'm Cathy (Campbell) Bernhardt, a quality management consultant (SUNY Potsdam, 1978) with interests in family genealogy, horseback riding and golfing. My ancestors are from Scotland, Ireland and England with their "origins" focusing on farming -- no famous people in my lines (yet!). I've been working on the CAMPBELL family history for 15 years and it's fairly close to being completed. My other family lineages, GRIFFIN and PARTRIDGE, still have a long way to go.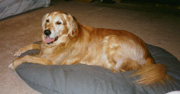 And, this is Kelly. She's the Golden Retriever that we adopted in 1996 at the age of 9 years through the wonderful folks at Yankee Golden Retriever Rescue (YGRR).





Dave - Cathy - Kelly - YGRR
---
send mail to the webmaster -- webmaster@twotonedog.com -- or, snailmail us at: 21 Cornish Drive, Hudson MA 01749-3245 USA
This page was last updated on 25 May 1999. (c) 1997, 1999, Dave and Cathy Bernhardt. Thanks for visiting us!